The perfect pineapple dress for you is out there. You simply have to look. There are so many to choose to from, you'll probably end up getting several pineapple dresses to compliment your figure and wardrobe.
Pineapple Dress
Shift dresses are all the rage right now. This pineapple dress is so darn cute. It's perfect for a summer party or day at the beach. Show off that gorgeous summer skin with this cute pineapple print.
This retro pineapple print looks awesome on this super flattering pineapple dress. This one could even be perfect for the office or workplace setting. Because let's face it, the great thing about pineapples is that they're great for brightening the mood anywhere!
I can't get enough of this fabric. The design is so pretty and with sun kissed summer skin, this will look just darling.

On the Lush-Lush Dress in Pineapple – $54.99
from: ModCloth
Here is another one with a super cute, girly print. This pineapple dress is sweet and simple with a cut to slim and show off that waistline.
Depending on your style, I think this one would make a great tropical vacation dress. It works for over a bathing suit, but still nice enough to grab a bite to eat in a nicer resort restaurant.

V Neck Sleeveless Furcal Pineapple Print Dress – $16.30
from: RoseGal.com
If you're more into the pinup girl look, this is the pineapple dress for you! Not only does it come in plus sizes, but it also has a matching pineapple purse!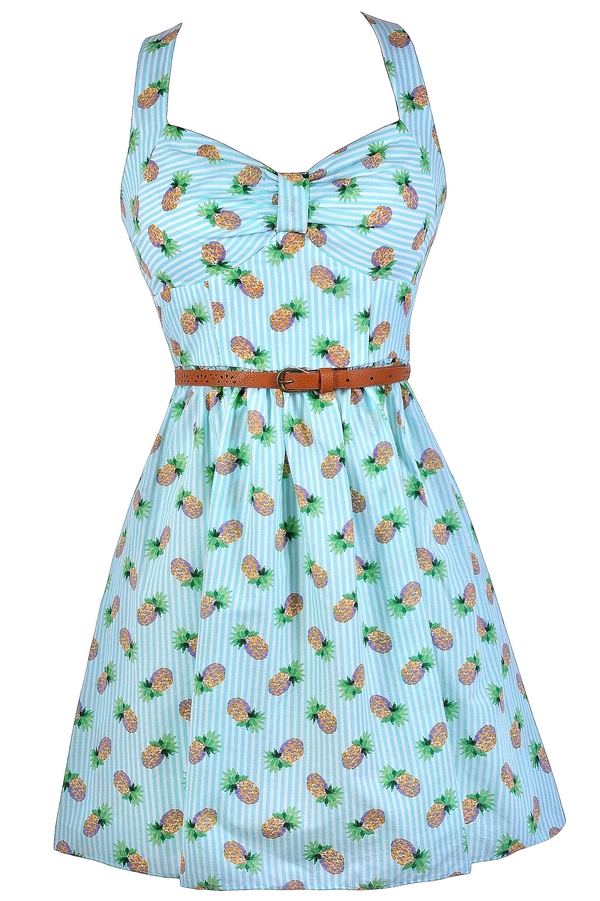 Pineapple Delight Printed Belted Dress – $38.00
from: Lily Boutique
Here is another one with that vintage pinup style cut. I could even see wearing this pineapple dress during the holidays with some cute tights and boots.
If you are looking for something a little more dressy, like perhaps for a wedding or special event, then this is the pineapple dress for you. It's slimming, festive, fun, and more formal than the others.
If you are looking for a sexier look more for a night out dancing at clubs then this little number is sure to grab so serious attention! Who knew pineapples could be this spicy!
Or, there is this. For the love of everything, I need this dress in my life ASAP! And for that price?! I can also get shoes, jewelry, and a purse to match!

V Neck Hollow Out Pineapple Print Dress – $24.43
from: RoseGal.com
Remember, you can find even more pineapple dresses in the the Pineapple Playa Shop. And don't forget all the fun accessories like purses, jewelry and shoes!