Pineapple swimming pool floats make spending a hot day in cool water much sweeter. This summer make sure you're totally stocked up with inflatable pool floats so you, your family, and your guests can all enjoy some sunny fruitful fun.
Pineapple Swimming Pool Floats
I just got this pineapple inflatable pool float and everyone is loving it. It's in the shape of a gigantic pineapple and made of durable material. I'm confident it will last many seasons.
Seeing it there, floating in that gorgeous, crystal clear water makes everyone want to lounge the day away. Even the neighbor's little dog was caught surfing on the pineapple!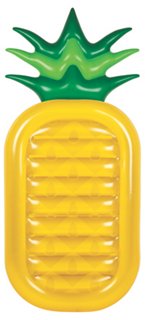 Pineapple Pool Float – $60.00
Make the most of pool time with this colorful, inflatable pineapple raft. Its sturdy PVC construction is contoured for easy lounging. Inspired by Australian living and nature, SunnyLIFE creates products with clean lines and carefully considered details meant to enhance all aspects of life, from the home to the outdoors.
And if you noticed my bathing suit in the photo above next to my pineapple pool float, the answer is yes, that is a pineapple bathing suit I'm wearing. Because I am obsessed if that isn't obvious by now. 🙂 It comes in neon green too!

Pineapple Pattern Bandeau One Piece Swimsuit – $21.49
Retail Price: $27.76
You Save: $6.27
from: ZAFUL.com
I don't personally own any of the following pineapple pool floats, but they're on my wish list. I mean, inflatable pool floats in general make a great gift. We're located near Chicago so it's a huge deal when it finally gets hot enough to enjoy the water. Whether it's at the lake or a pool, everyone busts out their pool gear with the intent to use the heck out of it.
Giant Pineapple Pool Float – $36.95 Imagine yourself floating in your pool, sipping a tropical drink while a ukulele serenades you-palm trees swaying in the breeze. Then reality strikes, and your realize you're still at work and its Tuesday. Get to your tropical happy-place faster with our ultra-comfy pineapple pool float. It's 6 feet long, letting you lounge in style any way imaginable.
That said, durability is key. Unless you want to buy new stuff every season… which might be okay if you're working it into your budget and don't have the room to store all your inflatables over the winter months. But I don't like to be wasteful so I like to have better quality items that last.
Plus, if you're in an area where swimming is possible all year, then by all means, you want the best of the best!
Here are a couple inflatable pool floats with great reviews. Even a couple for your drinks–because they also deserve a cool spot floating right next to you.
Flonuts Pineapple Inflatable 48Find It Here
Inflatable Pineapple Double Drink Holder – Holds 2 Drinks!Find It Here
BigMouth Inc. Inflatable Pool Party Drink Floats – Tropical 3 Pack!Find It Here
&
By all means enjoy the pool, lake or whatever body of water you can find on a hot day. But above all else, don't forget to protect yourself and loved ones from the sun. Check out the Pineapple Playa store for some great hats, sunglasses, and cover ups.